Steering Committee Members
The Wills for Heroes Steering Committee guides the program to its continued success. They volunteer their time not only in its strategic planning but to coordinating events, recruiting other volunteers and training others. We thank them for their dedication to helping Arizona's first responders.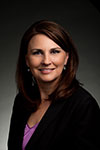 Trisha Baggs
Fennemore Craig
Trisha Baggs, J.D.: Trisha Baggs is an attorney with the firm of Fennemore Craig; Trisha works with families and their advisors to develop, design, and implement a variety of estate planning strategies. She also assists with probate and trust administration. Trisha graduated summa cum laude (B.A.) and magna cum laude (J.D.) from Arizona State University and served as Judicial Law Clerk to the Honorable Michael D. Ryan, Justice of the Arizona Supreme Court. Away from work, Trisha and her husband Shawn spend most of their free time as spectators at their children's band concerts, track meets, marching band competitions, and baseball games.