Steering Committee Members
The Wills for Heroes Steering Committee guides the program to its continued success. They volunteer their time not only in its strategic planning but to coordinating events, recruiting other volunteers and training others. We thank them for their dedication to helping Arizona's first responders.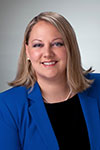 Amy Hernandez
Amy Hernandez received her law degree in 2003 from Drake University (with Honors). After law school she served as a law clerk at the Arizona Court of Appeals. Ms. Hernandez has served on the Civil Practice & Procedure Committee for the State Bar of Arizona and as the Chair of the State Bar Trial Practice Section. She is a former member of the Morris K. Udall Inn of Court and a former board member for the Arizona Association of Justice. Ms. Hernandez served in the United States Army from 1996 - 2000 as a military intelligence analyst. In 2015, Ms. Hernandez opened Dwyer Hernandez, P.C. where she continues to focus her on personal injury, medical malpractice, and legal malpractice.